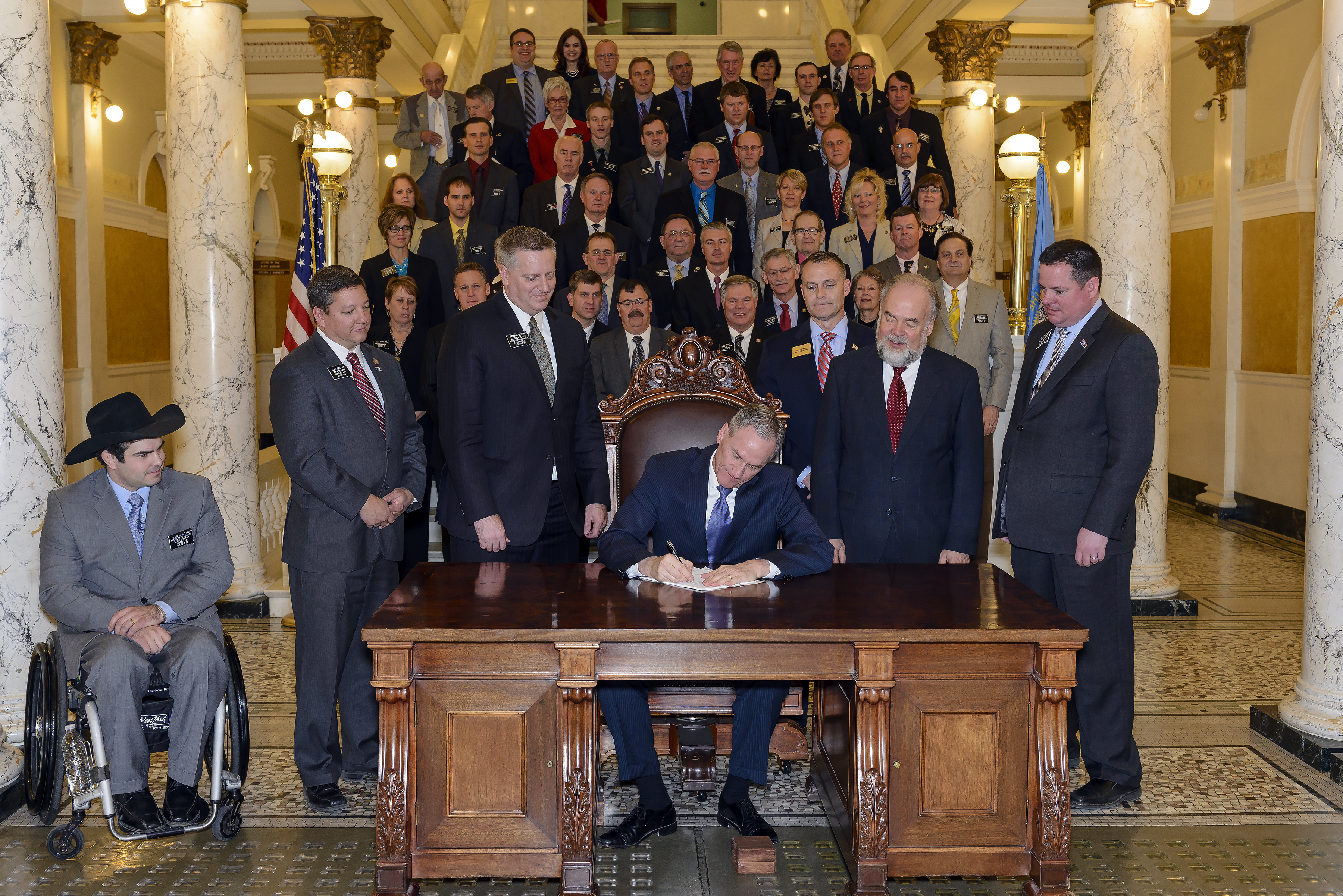 "I am grateful that the state Senate and House voted in support of this ground-breaking legislation. Senate Bill 73 represents an important step forward for juvenile justice in South Dakota. The passage of this bill will lead to less crime, lower costs for taxpayers, and better outcomes for South Dakota's youth and families." -Governor Dennis Daugaard, bill signing ceremony March 12, 2015
Governor Dennis Daugaard, State of the State speech
January 13, 2015
Juvenile Justice Public Safety Improvement Act
"When we began our review of the criminal justice system in 2013, many people believed the work would be incomplete unless we also looked at the state's juvenile justice system. Over the past year, we have brought together key stakeholders to carefully study relevant data and best practices, to consult with stakeholders, and to recommend policy solutions. This year, I hope you will support my proposals to improve our juvenile justice system.
But first, a bit of context. In South Dakota, juvenile commitments to the Department of Corrections have been declining. However, the drop has been much smaller than what other states, including our neighbors, have experienced. In fact, the most recent national figures show South Dakota with the second highest juvenile incarceration rate in the nation. And let me be clear, the high rate is not connected to a commensurately high rate of violent juvenile crime. In fact, South Dakota's juvenile violent crime arrest rate is one-third the national average. So, we have a violent crime rate with juveniles being one-third of the national average, and yet in the national average, we are the second highest state in the nation for locking up or putting juveniles in the hands of the Department of Corrections. Our juvenile incarceration rate should encourage us to act.
Another encouragement is cost. For most juveniles, commitment to the Department of Corrections means some kind of out-of-home placement, not for all of them but for most of them some kind of out-of-home placement. That's an expensive thing. Costs range from $41,000 to $144,000 per year, depending upon the program. At the same time, research tells us that supervising and treating youth in their communities, instead, is less expensive and more effective for many young people.
So this leads to a couple of obvious questions. Are there youth sent to the Department of Corrections who could be better served in their communities? Can we save money and hold youth accountable while keeping more of them in their own homes?
These and other questions motivated me to join with the Chief Justice and legislative leaders to form the Juvenile Justice Reinvestment Initiative last May.
Three principal goals guided their work and they are very similar to the goals that the adult corrections work group had. One, improve public safety by improving outcomes in juvenile cases; two, effectively hold juvenile offenders more accountable; and three, reduce costs by investing in proven community-based practices while saving residential facilities for more serious offenders.
The three-branch, bipartisan work group met in Pierre seven times between June and November, with many lengthy conference calls in between. Over the summer, members of this group investigated who was being sent to the Department of Corrections and how long they stayed. Here is what they found:
In 2013, seven of every ten youth committed to the Department of Corrections were for misdemeanor offenses, probation violations, and status offenses like underage drinking or truancy.
Besides status offenses, the crimes that most commonly led to commitment were misdemeanor marijuana possession, misdemeanor simple assault, misdemeanor ingestion of an illegal substance, and misdemeanor petty theft. In fact, there was only one felony offense among the top 10 committing offenses - burglary in the 3rd degree.
While fewer youth have been committed over the past few years, remember I said the commitment rate is coming down even though we are still second highest in the nation, those committed are staying longer. In 2007, juveniles averaged 12 months in out-of-home placement. By 2014, that had risen to 15.3 months. That was the average stay.
Similar trends were seen in the probation data. A judge might not commit a juvenile to the DOC. The judge might say, "We are going to put you on probation." Well, admissions to probation have been falling; with more probationers being low risk, lower level, but average time on probation is longer.
While the work group was churning through mountains of juvenile justice data, staff from my office made progress on a parallel course traveling across the state to meet with more than 200 stakeholders. The message they heard was overwhelmingly clear: we can do a better job for youth who veer off track in South Dakota.
A few major themes stood out:
One - we need to increase our use of diversion programs to prevent troubled youth from going deeper into the juvenile justice system.
Two - we need more evidence-based programing in our communities so that judges have options other than commitment to the Department of Corrections, and so that youth can remain in their homes.
Three - we need better support services for youth and their families so that they can confront the challenges that often lead to a child's entanglement with the juvenile system.
Now with that feedback in mind, and with the data analysis in hand, the work group made 12 recommendations for reform. I am just going to talk about three of them today.
One calls for the development of an array of effective interventions for youth in our juvenile system across our state, including in our rural areas. These interventions would include programs to address substance abuse, alcohol use, drug use, antisocial thinking and behavior, and challenges within the family. We need programs. The availability of such options will help judges as they perform the difficult task of weighing how best to set youth on a better path. It will also provide court services officers on probation situations, juvenile corrections agents in parole situations or after treatment situations, and give them more tools to manage youth in the communities under their supervision. More importantly, these proven community-based solutions can strengthen families and help keep our communities safer.
A second recommendation focuses on which juveniles are placed in the custody of the Department of Corrections. As I mentioned, most juveniles now committed were there because of misdemeanor offenses, probation violations, and minor status offenses. The work group recommended that only those youth who have committed the most serious offenses and pose a risk to the public be committed to the Department of Corrections.
The third item I'll highlight recommends increased use of court diversion for youth committing lower level offenses like Teen Court or other kinds of diversion. A fiscal incentive could encourage counties to provide diversion opportunities. Many of them have diversion programs, but they are not utilizing them. Let's incent them with money to do that because we pay a little bit of money there and save a lot of money elsewhere. Diversion has been shown to be more effective than formal court interventions for most youth.
Taken together, the work group recommendations are projected to reduce the Department of Corrections population in residential treatment by more than 50 percent within five years. This would save millions of dollars within that system ---50 percent within five years.
I'm not the only South Dakotan who has taken this issue to heart. Many others support taking action. In fact, the proposal I am offering is supported by the Juvenile Justice Reinvestment Initiative work group, of course, and has been endorsed by the Chief Justice David Gilbertson, the Attorney General Marty Jackley, the association of states' attorneys, the association of sheriffs, the association of county commissioners, the South Dakota Association of Youth Care Providers. These are all formal board endorsements of this proposal - the Network Against Family Violence and Sexual Assault, South Dakota Voices for Children, the association of criminal defense lawyers, and the South Dakota Chamber of Commerce and Industry.
As you can see, there are many people who have worked very hard to craft and evaluate these proposals. I want to mention two in particular that are in the gallery today. Pennington County Sheriff Kevin Thom was instrumental in developing the Public Safety Improvement Act two years ago, and has become a nationally recognized expert in justice reinvestment initiatives. He also chairs our stakeholder advisory group. Hughes County Sheriff Mike Leidholt served on the juvenile justice work group this year, and as the immediate past president of the National Sheriffs Association, he has made important contributions. Please help me thank them both for their efforts. It is so helpful when people on the front lines who have a special insight to some of these proposals support them, and I thank you both.
As seen in the past, we can do great things when we work together. I want to make sure government and our taxpayer dollars are producing the best possible outcomes for the young people of our state, and I know you do, too.
We have a choice to make. We can continue to place juveniles in expensive residential settings that are less effective in addressing delinquency, or we can invest short term in more effective treatment, while keeping our youth close to home and driving down that residential population that I talked about earlier.
Please join me in making the right choice, one that improves our juvenile justice system and strengthens our families and communities.